Swift clip: SwiftUI stacks and spacers
Let's take a look at how SwiftUI's various stacks and spacers can be used to achieve many kinds of flexible, adaptive layouts with very little code. While SwiftUI does include several more advanced layout APIs, stacks and spacers are a great starting point for most UIs.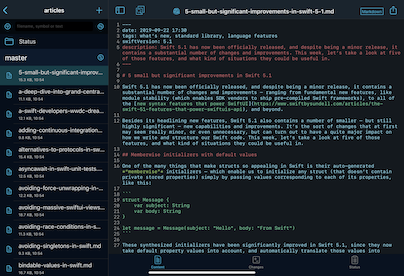 For two weeks, many websites around the Swift community are featuring indie developers who have been financially impacted by the current pandemic. If you can, please help support these indies by downloading their apps. Today's app is...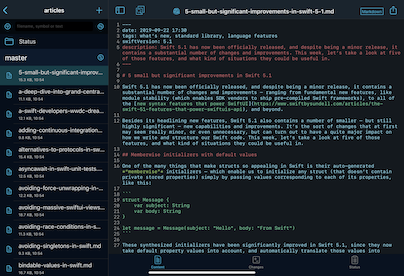 Working Copy: My favorite Git client for iOS. Working Copy lets me access all of my Git repositories while on the go, which lets me update my projects, check out files, and much more. Made by Anders Borum from Copenhagen.
A simple SwiftUI view that renders a text at the center of its parent container:
struct

 ContentView: 

View

 {
    

var

 body: 

some

 

View

 {
        

Text

(

"SwiftUI"

)
    }
}
Adding another text, and wrapping those two subviews within a VStack to render them on top of each other along the Y-axis:
struct

 ContentView: 

View

 {
    

var

 body: 

some

 

View

 {
        

VStack

 {
            

Text

(

"SwiftUI"

)
            

Text

(

"Layout"

)
        }
    }
}
Pushing our two texts to the top of the screen using a Spacer:
struct

 ContentView: 

View

 {
    

var

 body: 

some

 

View

 {
        

VStack

 {
            

Text

(

"SwiftUI"

)
            

Text

(

"Layout"

)
            

Spacer

()
        }
    }
}
Moving our texts to the top-left corner (or technically, top-leading corner), using an HStack and another Spacer:
struct

 ContentView: 

View

 {
    

var

 body: 

some

 

View

 {
        

HStack

 {
            

VStack

 {
                

Text

(

"SwiftUI"

)
                

Text

(

"Layout"

)
                

Spacer

()
            }
            

Spacer

()
        }
    }
}
Adding padding to our view using the .padding() modifier:
struct

 ContentView: 

View

 {
    

var

 body: 

some

 

View

 {
        

HStack

 {
            

VStack

 {
                

Text

(

"SwiftUI"

)
                

Text

(

"Layout"

)
                

Spacer

()
            }
            

Spacer

()
        }.

padding

()
    }
}
Adding an image rendered at the top-right (trailing) corner of the screen:
struct

 ContentView: 

View

 {
    

var

 body: 

some

 

View

 {
        

HStack

(alignment: .

top

) {
            

VStack

 {
                

Text

(

"SwiftUI"

)
                

Text

(

"Layout"

)
                

Spacer

()
            }
            

Spacer

()
            

Image

(systemName: 

"star"

)
        }.

padding

()
    }
}
Extracting our current views into a new View type:
struct

 TopView: 

View

 {
    

var

 body: 

some

 

View

 {
        

HStack

(alignment: .

top

) {
            

VStack

 {
                

Text

(

"SwiftUI"

)
                

Text

(

"Layout"

)
            }
            

Spacer

()
            

Image

(systemName: 

"star"

)
        }
    }
}
Using composition to form our content view, rather than having it contain all of our layout code:
struct

 ContentView: 

View

 {
    

var

 body: 

some

 

View

 {
        

VStack

 {
            

TopView

()
            

Spacer

()
        }.

padding

()
    }
}
Adding a new layer to our view hierarchy using a ZStack:
struct

 ContentView: 

View

 {
    

var

 body: 

some

 

View

 {
        

ZStack

(alignment: .

bottomTrailing

) {
            

VStack

 {
                

TopView

()
                

Spacer

()
            }
            

Text

(

"A new layer"

)
        }.

padding

()
    }
}