Swift clip: First class functions
Welcome to Swift Clips — a new series of shorter videos showcasing interesting and useful Swift tips and techniques. In this first episode we'll take a look at first class functions, which is a language feature that enables us to use functions in really powerful ways.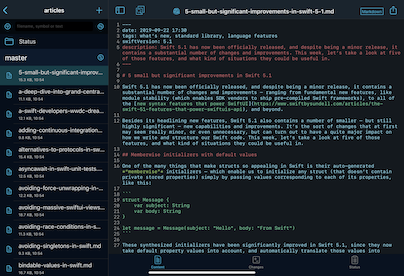 For two weeks, many websites around the Swift community are featuring indie developers who have been financially impacted by the current pandemic. If you can, please help support these indies by downloading their apps. Today's app is...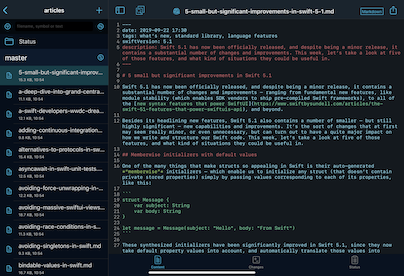 Working Copy: My favorite Git client for iOS. Working Copy lets me access all of my Git repositories while on the go, which lets me update my projects, check out files, and much more. Made by Anders Borum from Copenhagen.
Adding a series of views as subviews of another view:
let

 view: 

UIView

 = ...


let

 subviews: [

UIView

] = [button, label, imageView]



// Using a closure


subviews.

forEach

 { subview 

in


    view.

addSubview

(subview)
}



// Using first class functions


subviews.

forEach

(view.

addSubview

)
Converting an array of strings into URL values:
let

 strings = [

"swiftbysundell.com"

, 

"apple.com"

]



// Using a closure




let

 urls = strings.

compactMap

 { string 

in


    

URL

(string: string)
}



// Using first class functions




let

 urls = strings.

compactMap

(

URL

.

init

)
Sorting an array of Int values in descending order:
let

 scores: [

Int

] = [

9

, 

20

, 

2

, 

1

, 

5

]



// Using a closure




let

 highScores = scores.

sorted

(by: { $0 > $1 })



// Using first class functions




let

 highScores = scores.

sorted

(by: >)
Applying a value to a closure, to avoid the classic "weak self dance":
// A view controller that currently captures 'self' weakly, in
// order to call a method on a 'productManager' property object:




class

 ProductViewController: 

UIViewController

 {
    ...

    

override func

 viewDidLoad() {
        

super

.

viewDidLoad

()

        buyButton.

handler

 = { [

weak self

] 

in
            guard let self

 = 

self else

 {
                

return


            }

            

self

.

productManager

.

startCheckout

(for: 

self

.

product

)
        }
    }
}



// Introducing a 'combine' function for applying a value to
// any function or closure:




func

 combine<A, B>(
    

_

 value: 

A

,
    with closure: 

@escaping

 (

A

) -> 

B


) -> () -> 

B

 {
    

return

 { 

closure

(value) }
}



// Using our new combine function:




class

 ProductViewController: 

UIViewController

 {
    ...

    

override func

 viewDidLoad() {
        

super

.

viewDidLoad

()
        
        buyButton.

handler

 = 

combine

(product,
            with: productManager.

startCheckout


        )
    }
}